Today marks the start of Children's Mental Health Awareness Week.
To mark the start of Children's Mental Health Week, The Duchess of Cambridge, Patron of Place2Be, has sent a message of support encouraging children and parents to find ways to share their thoughts and feelings, particularly during such a challenging time.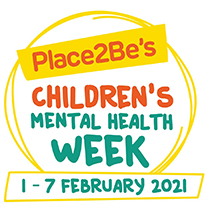 In the message, The Duchess of Cambridge said:
"This year's Children's Mental Health Week is all about expressing yourself – about finding creative ways in which to share your thoughts, ideas and feelings. So whether that's through photography, through art, through drama, through music or poetry – it's finding those things that makes you feel good about yourself.
"And while this is Children's Mental Health Week there has never been a more important time to talk about parental wellbeing and mental health too. Last year you told me just how important this was that many of us find it hard to prioritise. This is a hugely challenging time for us all so please look after yourself too. Find those ways in which to share your thoughts and your feelings or find someone to talk to because we really do need to be the very best versions of ourselves for the children in our care."
Her Royal Highness has supported Children's Mental Health week since it was launched by Place2Be in 2015 to shine a spotlight on the importance of children and young people's mental health.
Join us on Wednesday at 9am for a live assembly with the Oak Academy all about this years campaign to express yourself.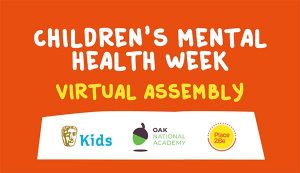 Oak National Academy has teamed up with Place2Be and BAFTA Kids to create a free assembly for Children's Mental Health Week 2021, celebrating this year's theme of "Express Yourself".
Make sure you set your reminders to come back HERE at 9am on Monday 1st February to join Blue Peter's Lindsey Russell and CBBC presenter Rhys Stephenson alongside some other special well-known faces for a free and exciting assembly available to all children, schools and families.
We're bringing the nation's children together (virtually!) with a positive message about the power of creative self-expression.
Expressing yourself is about finding ways to share feelings, thoughts, or ideas, through creativity. This could be through art, music, writing and poetry, dance and drama, photography and film, and doing activities that make you feel good.
It's important to remember that being able to express yourself is not about being the best at something or putting on a performance for others. It is about finding a way to show who you are, and how you see the world, that can help you feel good about yourself.
For Children's Mental Health Week 2021 we will be encouraging children (and adults) to explore the different ways we can express ourselves, and the creative ways that we can share our feelings, our thoughts and our ideas.
To join in with this years theme we have decided to look at 'Ruby's Worry' and use it as a stimulus to promote talking about our feelings.  This also links with our National Storytelling Week.  The text is a fantastic example of the power of talk and how important it is!
Please share your thoughts and any activities that you have joined in with.  We would all love to see how you are expressing yourself!!