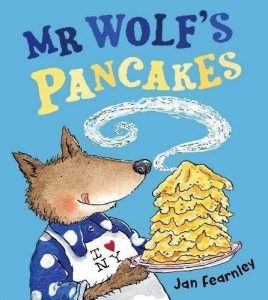 Hello Reception,
I hope you have had a great half term holiday.
This week we will be reviewing the events of last Tuesday, can anyone remember what happened? That's right it was Shrove Tuesday, did you all have pancakes?
Well this week we will be looking at an excellent story all about Mr Wolf and his pancakes.  Poor Mr Wolf has some really unhelpful neighbours.  I wonder if you can find out why?
As always keep sending your photographs and all of your daily tasks will be uploaded onto the Class Dojo.  Your planning can be found on the link below and packs are ready to collect from the school office.  I hope to see you all soon either virtually or in person.  Have a great week!
Mrs Trotter