Nursery have had another fantastic week! They have made pancakes, tasted pancakes and sang about pancakes.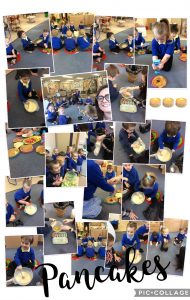 We have been working really hard to build up our vocabulary…
"It's fluffy like a sheep." Lucee
"It's like snow." George
"It looks like a tiger, look at the ears and stripes." Khaleesi
"Crack dee egg and woooosh." Layton
"Whilicous." Lori
"Me and mam make pancakes." Kendal
"drawberries yum yum." Lewis
All week Nursery have been working on learning a special pancake poem. Here is their final performance. Well done Nursery I am so proud of you all!!