Hi everyone,
Another week passes and sadly we are still unable to be together in our class. On the bright side, lots us have had a great week in our Google Classroom.
We had a marvellous lesson this morning where we all worked together to create a poem.
This is what we came up with. Isn't it great !
After OUR School Assembly by Year 3/4
Mr Wind's class blew out,
Miss Crab's class scuttled out sideways,
Miss Carr's lot rolled out slowly,
Miss Bird's class fluttered out.
Miss Take's class failed miserably,
Mrs Ship's class sailed out,
Mr Rabbit's class hopped out,
Mrs Water's class spilled out.
Mr Orange's class peeled out,
Mr Yacht's class sailed out,
Miss Rainbow's class rose up,
Miss Ball's class bounced out.
Mr Sea's class splashed out with a wave,
Mr Lyon's lot roared loudly,
Mrs Scissor's class snipped out,
Mr Binn's emptied out.
Mr Disco's lot danced out gracefully,
Miss Spin's lot twirled out,
Mr Tree's class branched out,
Mr Toad's lot class leaped out.
Mr Bogg's class flushed out,
Mr Monkey's lot swung out,
Mr Broom's class swept out,
Miss Bounce's class bounced out.
Miss Crawley's class crept out,
Mr Shark's class snapped out angrily,
Mrs Snake's lot sliiiiiiiiiiithered out,
Mrs Paste's class spread out.
Mr Ice's lot disintegrated,
Mr Rock's class crumbled out.
There were some newbies in class today and it was great to see them. If you haven't taken part yet please and say hi !
If you are looking for extra work click this link and head over to BBC Bitesize.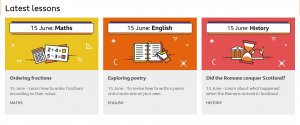 https://www.bbc.co.uk/bitesize/tags/zmyxxyc/year-3-and-p4-lessons
Spelling
Words ending in the suffix
-al
natural
occasional
actual
accidental
medical
national
capital
vocal
sensational
personal
Also please don't forget Times Table Rockstars  as we need to improve the speed at which we answer the questions.
Any queries please just send me an email.
Thanks
Here is a digital copy of the learning packs that can be picked up from school.
Mr Hymers